Most SEO projects start with an SEO audit. A baseline measurement to see where you are, and to identify what can be improved. In this article, we show the 13 steps to do a quick, actionable SEO audit and help your website show up on Google.
What is an SEO audit?
An SEO audit is a method of reviewing the technical details of the website's SEO. It effectively tests a website's safety and points out what changes would help to boost the overall performance of your site. 
What is the purpose of an SEO audit?
The main goal of SEO is to optimize the infrastructure of a website and see how your website performs. Search engines like Google and Bing have search engine bots that crawl websites every single day and locate pages on your site. 
A technical SEO audit helps to see if there are things that might potentially block these crawlers from crawling your site, such as, page speed that can restrict them from crawling your site, index, and eventually rankings. It serves as a starting point from which you can plan your next steps.
Technical SEO audits take many forms. If you're looking for a lengthy, in-depth analysis of every little detail of your website: sorry, that's not what this is. Do you want to see quick results, and actionable suggestions? Keep reading!
We strongly believe that a Technical SEO audit should have actionable, prioritized recommendations. Otherwise, it'll just end up in someone's bottom drawer and none of the recommendations will be implemented.
Why is Technical SEO Important?
Organic traffic is a vital channel for most websites, and it's essential if you want to grow. Free traffic from Google (so not from advertising) brings you new, engaged potential customers actively looking for a solution to their problem.
However, there is fierce competition for Google's number one spot. To make your website visible, you need to make sure your website is in good shape. A Technical SEO audit does just that.
The basics
Let's get started with the basics: we'll look at your current performance in Google. Just to get our toes in the water.
Google Analytics
To get visibility on your website's performance, you need an analytics tool. 99% of websites use Google Analytics, but there are alternatives.
Head over to Google Analytics and go to Acquisition, and see how much traffic you're currently getting from SEO. 
Google Search Console
Although Google Analytics tells you a lot about your website's visitors, it doesn't tell you which keywords they used. That's pretty important information. Luckily there's Google Search Console, which does have that information. Once you've verified you're the owner of your site, the Performance tab shows you for every keyword:
How often your site showed up
How many people clicked on it
The average Click Through Rate (CTR)
Go through this list and see which keywords you rank for, and for which you're not visible. Keep a list of the search terms that have high volume, are relevant to you, but for which you're not ranking yet.
Additionally, find keywords for which you rank on the first spot, but with a low CTR. These are results that can be optimized, for instance by improving your title or meta description.
Branded vs. Non-branded
Lastly, we want to make a distinction between branded and non-branded search terms. Branded search terms include your brand name, whereas non-branded don't. If your share of non-branded search terms is very low, you have work to do. Your site is mostly found by people who already know your brand, so you're reaching hardly any new visitors. This presents an opportunity to target non-branded searches, so you can increase your visibility.
Google's Search Results page
With all the SEO tools and strategies out there, it's easy to forget how real people see your site. So let's open a tab, go to Google.com and search for some of the popular search terms you rank for. How does your website show up in the SERP? Would you click on it if you were a potential customer? Do you see any competitors that do better? Keep note of your findings.
On-page
It's time to take a look at your website's inner workings. We'll use SiteGuru to crawl your website, find all of its pages, and spot technical issues.
Website structure
Your website's information structure should make sense. Are your URLs built up correctly? Is your page structure neatly organized? Do you have sufficient internal links? Is your URL structure nice and flat, instead of multiple levels deep?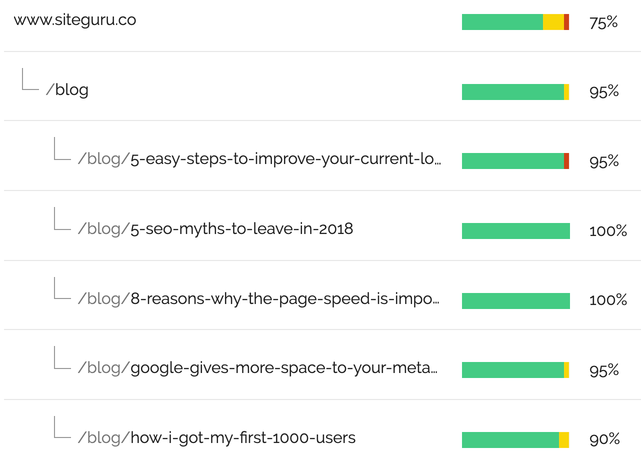 After crawling your site, have a good look at the full structure of your website and check if it makes sense.
Indexability
To rank, Google must be able to crawl and index your website. This requires first of all that you're providing the right instructions. If you're adding noindex-headers or no-index instructions in your robots.txt, Google won't bother crawling your site. Make sure every page that should be indexable doesn't have noindex instructions.
All set? Now let's make sure Google can find those pages. Ideally, this should be by your internal link structure. Every page should have some links pointing to it, otherwise, Google won't think it's relevant. To make sure Google knows all your pages, you should create a sitemap.xml. This is a file that contains all your website's pages. Submit this to Google Search Console, so Google knows what to index.
Speaking of indexability: make sure only one variant of your website is indexable. This sounds obvious, but we see too many sites that work with or without www. Or with https, and with http.
To prevent this, set up redirects to your best URL. Some examples:
http://example.com > https://wwww.example.com
https://example.com > https://wwww.example.com
http://www.example.com > https://wwww.example.com
Page titles
From an SEO perspective, page titles are important for two reasons. It's a clear indication telling Google what your page is about. Also, the page title is shown as a clickable link in the results:
Page titles serve as the pickup line for your website. Having a page title of the correct length (50-70 characters) and with the right keywords helps improve your rankings and click-through rate in Google.
Analyze the page titles of your pages, and see what you can improve: check it's length, keywords, and whether it's unique.
More about page titles
Meta descriptions
Similar to page titles, meta descriptions often show up in Google's search results and should seduce searchers to click on your site. 
A good meta description is a short description of your website of 120 -170 characters, is unique, and helps improve click-through rate by getting searchers to click on your result.
More about meta descriptions
Page structure and Headings
A good page structure helps both Google and your visitors navigate your website. Most websites have a clear header, main navigation, sub-navigation, and a footer with navigation.
Within the main content, you can structure your text by using correct headings. Use an H1 for your most important title (ideally only one), and move to H2 and H3 for less important titles to give structure to your page.
Structured Data
Structured Data is a way to tell Google and other search engines what the different elements on your page mean. It takes normal HTML and turns it into meaningful entities that search engines understand. As a result, Google can make sense of your site, and it can give greater visibility to your site in search results. For instance, by adding prices and stock information about your products, reviews stars, or author information.
As part of your SEO audit, you identify which pages have Structured Data, whether that is valid using Google's Structured Data Testing Tool. Additionally, you try to spot opportunities: which pages would benefit from adding Structured Data?

Page speed
Page speed is about how long a visitor has to wait before she can use your web page. The faster the page is visible and usable, the better. Page speed affects your user experience and your rankings in Google. And, it increases your rankings in Google. With Google increasing the importance of Web Vitals such as CLS and LCP, page performance will only become more important for your rankings.
We often see slow pages can be made a lot quicker by a couple of simple fixes: smaller images, caching, or other technical improvements. Find out which pages are slow, and improve them using Google's tips.
Pro-tip: SiteGuru checks the speed of your first 100 pages automatically, so you don't have to do it manually. 

Thin content
Thin content is pages with little added value. It can be duplicate pages or pages that are automatically generated by your CMS. Other examples are search result pages of your internal search engine (tip: these shouldn't be indexable) or filtered category pages in a webshop.
Either remove those pages or, if they're technically required, no-index them. Google won't waste crawl budget on it, and those meaningless pages won't show up in the search results.
Broken links
Broken links are another example where an SEO audit benefits both your search engine performance as well as your user experience. Every website that has been around for a while will suffer from what we call link rot: external or internal links that stopped working, but links are still pointing to them.
This is inevitable. Run a regular broken link check on your website to find and fix broken links.
Redirects
Although not as bad as a broken link, links that are redirected to another page make crawling harder and slow down your user experience. A website with many redirects can be improved by just pointing links directly to the right page. Also, analyze the types of redirects you're using. Normally, you should use a 301 redirect for permanently moved content, and a 302 redirect if it's just a temporary move.
You've now analyzed the most important on-page elements of your website. 
Make it actionable: prioritize
A good Technical SEO audit is actionable and prioritized. If you're doing an SEO audit not just for yourself, but need to share it with others, you need to set the priorities.
Most websites have hundreds of improvements. Listing them all is often a guarantee that none of them will be acted upon. So instead of providing a list of 2000 meta descriptions that need to be improved, focus on the top 10 where you expect the most impact.
Don't just say: these 100 pages are too slow. Include a way to fix it, so say "by enabling caching we can speed up our website".
Priority depends on the number of pages affected, the importance of those pages, and the effects on visibility. A noindex on one page, that happens to be your best selling product, could be worse than hundreds of slow pages. It all depends.
Remember, this is just a first step. Once the first set of improvements has been acted upon, move to the next. Take a step-by-step approach and show the results.