On-Page SEO 101: Why You Should Care
Keywords make the world go round, but if Google can't crawl and index your pages, you won't be able to rank. I know technical SEO sounds complex sometimes, but it's the foundation that ensures your website ranks. 
With so many moving pieces, our free on-page SEO checker (and our full SEO audit & prioritization tool) ensures nothing slips through the cracks and affects Google's opinion of your site. 

On-Page SEO Checklist
Our free on-page SEO checker evaluates the following aspects of your website to provide you with a health score:
Page Titles

A page title example in the SERP.

Are you telling Google what your page is about (correctly)? Your page title tags need to be relevant to the keyword and the searchers so your click-through rate (CTR) increases and you get more traffic to your website.
Learn how to optimize your page titles.
Meta Descriptions

A meta description example in the SERP.

Similarly to page titles, your meta descriptions have to connect with the searcher and show them that your page is worth clicking on. I like to describe them as pick-up lines for your website; they can make or break your CTR.
Discover how to optimize your meta descriptions.
The Indexability On-Page SEO Check: Can Google Even Find Your Page?

Indexing status in SiteGuru

Once you publish a page or a post on your website, Google has to discover it, crawl it, and then decide to include it in its index of web pages that it should rank for a search query. 
Unfortunately, a lot of things can go bump in the process, so it's crucial to ensure your pages get indexed – and fast. 
Learn more about Google coverage statuses and indexing. 
Canonical URL Check
Canonical URLs in practice.
Search engines really, really dislike duplicate content. If your website is creating duplicates (e.g., you have slight variations of the same product on separate pages), you'll use canonical URLs to clarify which URL you want Google to index.
Learn how professionals use canonical URLs for on-page SEO.
Make Your Website Available on Just One Domain
SiteGuru alerts you if there are any WWW-resolve issues.

You'll have to decide if you want your website to have the www before the domain (www.siteguru.co) or go without it (siteguru.co). If you use both simultaneously, Google and other search engines could see it as duplicate content, affecting your rankings.
Discover what Google considers to be duplicate content.
Is Your SSL Certificate Valid?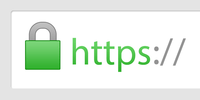 The green padlock of trust is no longer voluntary!

Since the green browser padlock of trust has become a universal signal for a secure website, you can't go without it. Our free on-page SEO checker will ensure that you have the SSL certificate installed and validated so Google knows you're safe to recommend.
Learn how Google thinks about website security and HTTPS in SEO.
Critical On-Page SEO Check: 404 Error Pages

An error page.
If search bots or searchers can't find a specific page on your website, they'll see a 404 page. Now, that's no big deal if the searchers type something at random - but if there's a page you'd like Google to index that returns a 404 error code, you'll want to fix it as soon as possible. 
Otherwise, your pages won't be indexed and ranked. Or, if there has recently been an error, they could lose their rankings. 
Heading Hierarchy
The correct heading hierarchy for SEO:
<h1>heading 1 - Most important</h1>
<h2>heading 2 - Second most important</h2>
<h3>heading 3 - Third most important</h3>
<h4>heading 4 - Fourth most important</h4>
<h5>heading 5 - Fifth most important</h5>
<h6>heading 6 - Least important</h5>
We have to spell things out for Google - and that includes using the right headings. Our on-page SEO checker audits your pages for the existence of headings, as well as the existence of only one H1 tag per page.
Optimize your header, heading, and title tags.
Alt Texts

Not an error! This is what an alt text looks like.

When searchers can't load your image or another asset for one reason or another, you'll want to give them a description of what the element was supposed to represent. 
Similarly, using the right alt texts allows Google to index more than just your written content – including images and videos.
Discover how to optimize your alt texts.
Structured Data SEO Check


Structured data makes any search result better.

Structured data explains every part of your page to Google. Plus, your search results start looking much snazzier, so you grab more attention in the SERPs. 
But since structured data is technical, it can hit a snag. Our on-page SEO checker makes sure your structured data exists and is valid.
The guide to structured data for SEO.
Google Analytics
Just one of the free SiteGuru checks that monitor your Google Analytics.
Google Analytics uncovers a wealth of insights about visitor behavior, as well as potential problems, including broken links, high bounce rates, etc. The free on-page SEO check will show you where you stand with visitor engagement and point you to any issues.
Discover the full scope of the Google Analytics SEO check.
Audit Your OpenGraph Tags

Make your link stand out in the feed!

Are you ready for readers to share your content? OpenGraph tags, when appropriately implemented, display your links more engagingly on social media, sending more traffic and social media mentions to your website, which affects your SEO.
How to optimize your OpenGraph tags for social shares. 
Discover What You Can Optimize Today!
Translate your website into the language of the search engines and get better results! On-page SEO will help you ensure all the technical aspects of your site are in order so you get more traffic faster.