SEO success made easy
We help you get you more traffic from search engines, even if you're not an SEO expert.
Here's how we do that.
Your SEO to-do list
The biggest challenge in SEO? Most people don't know where to start.
That's where our SEO to-do list comes in: we identify the most important SEO issues for your site and help you fix them.
Work on stuff that really matters. Less work, more results.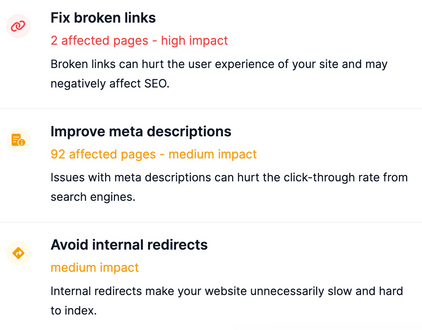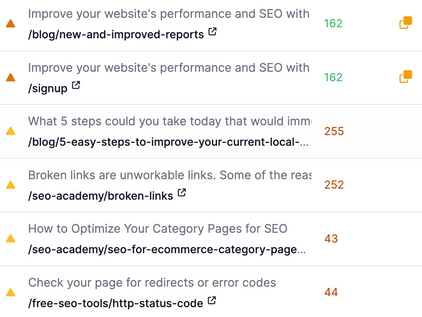 Content optimization
Optimize your meta descriptions, page titles and headings, and fix your internal linking.
Our detailed reports help you find any content-related issues for all your pages. And our AI magic makes coming up with great page titles and meta descriptions a lot easier.
More about content audits
Keyword Insights
We help you get more keyword insights without spending hours in Google Search Console. We take your Search Console data and turn it into meaningful insights.
Quickly find low-hanging fruit, competing pages and monitor rankings for your important keywords.
No need check Search Console all the time: we send you a weekly report with the most important keyword insights.
More about Keyword Insights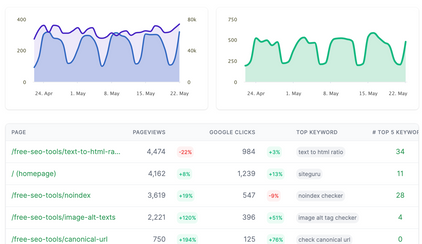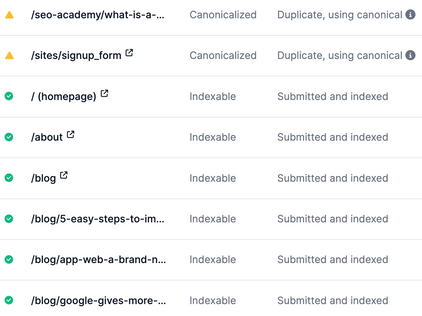 Technical audit
Make sure your website is in top shape: we check every technical detail that is relevant for SEO.
Indexation, sitemaps, canonical URLs, Structured Data, Pagespeed, Hreflangs, Robots.txt files and more
Does all this sound way too complicated? Don't worry, we'll explain everything step by step.
More about technical audit
SEO tool for marketers
Not an SEO expert? With SiteGuru, you don't have to be.
SEO is just one of the many marketing tasks on your plate. SiteGuru gets you results without spending days on SEO.
Prioritized SEO todo-list
Clean user interface
Easy to use reports
Weekly performance emails
No technical installation needed: just enter the URL
Work together with colleagues and agencies
Step-by-step approach
SEO tool agencies & freelancers
Doing SEO for your clients? SiteGuru helps you shine.
Working on many different projects is a breeze with SiteGuru. Manage all your clients from one app, and give them access.
Give clients access to SEO reports
Work together with colleagues
Download whitelabel reports
All your clients in 1 overview
CSV exports and Word / Google Docs exports
Automatic reports for every client
Keep track of all relevant SEO changes
100s Of Companies Are Using SiteGuru To Get More Traffic

"SiteGuru is like having a good pal who's great at SEO"
Duy H.

"SiteGuru is very straightforward and explains things very easily"
Stuart Steinberg

"A Powerful, Simple, Easy-to-Use, Site Auditor for Complete Newbies"
Kenneth T.
Pricing
Small
$
49
per month
billed monthly
Start free trial
5 websites
Responsive support
Unlimited users
Unlimited audits
AI content optimization
2500 keywords per site
Daily keyword updates
Most popular
Medium
$
99
per month
billed monthly
Start free trial
15 websites
Responsive support
Unlimited users
Unlimited audits
White label reports
AI content optimization
2500 keywords per site
Daily keyword updates
Large
$
199
per month
billed monthly
Start free trial
50 websites
Priority support
Unlimited users
Unlimited audits
White label reports
AI content optimization
2500 keywords per site
Daily keyword updates
Try SiteGuru for free
Free trial - No credit card required - Done in 15 minutes