Everything you need for SEO success
It's our mission to help you succeed as a marketer. Our website auditor helps you get the full picture of a website, find issues, and fix them.
Here's how we do that.
Top features
Core SEO reports
Website Crawler
Get the complete picture of your website. SiteGuru crawls your entire website and shows you the full structure. Sitemaps, internal links, and canonicals: our crawler eats everything. The result: a full overview of your site, including those pages you forgot about.
We generate a fresh SEO report every week, and you can always start a new check manually.
More about our website crawler
Your SEO to-do list
The crawler gets hundreds of data points for your website. All available in over 20 reports. But you don't need 20 reports. You need actionable SEO tips.
That's where the SEO task list comes in: the most important SEO issues on your site that really impact your visibility. Prioritized by impact, and affected pages. So you can focus on the right things.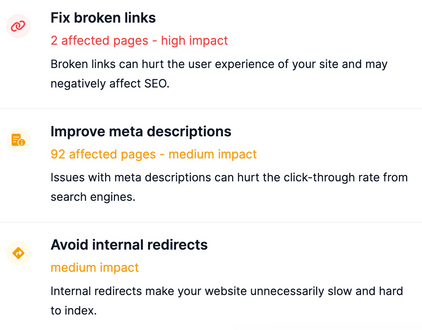 Work together with clients
SEO's never work alone. Invite your clients, copywriters, and developers to your SiteGuru account and work together on your projects. There is no limit to the number of people you can invite, and it's super easy to give everyone access to just what they need.
More about managing users
Keep track of changes
We check your website every week and keep track of what has changed. See historic meta descriptions, page titles, and canonicals. Find out how your page speed changed over time. And keep track of the overall health of your website. Great to quickly spot issues. Even better to impress your client with the progress you've made.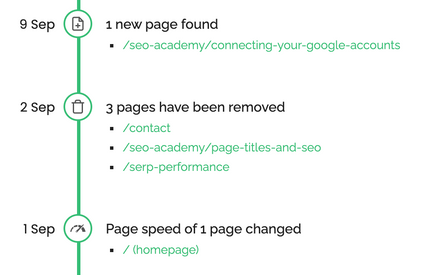 Exports of everything you need
The freedom to do your own Excel or Google Sheets magic.
Exports to CSV and MS Word, with your own logo and company name on the report.
Link Google Analytics and Google Search Console
SiteGuru checks the on-page qualities of your website. But you get real insights by linking your Google Analytics and Google Search Console accounts. Quickly see what keywords a page ranks for, how you can improve the CTR, and monitor your rankings. All in one tool.
Insights into everything that's relevant for SEO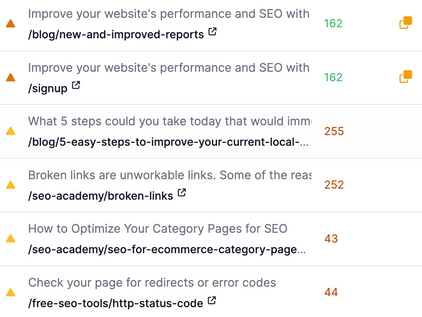 Meta descriptions and page titles
Get the basics right: find missing or duplicate page titles and meta descriptions. And find those titles and descriptions that have a suboptimal length.
Better yet: see directly what the SERP for that page might look like, on both mobile and desktop. Not for one page, but for hundreds of pages.
Page speed and Core Web Vitals
Are you using Google Page Speed Insights to monitor your Page speed and Core Web Vitals like Largest Contentful Paint and Cumulative Layout Shift? That's a good idea because page performance is important for both SEO and user experience.
Stop checking every page individually: we'll check hundreds of pages using the Pagespeed API, and show you the results in one overview. This saves you hours finding slow pages.
Oh, and we do it every week, so you'll know when new page speed issues arise.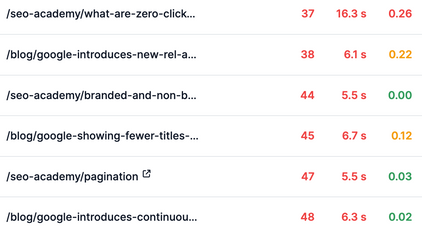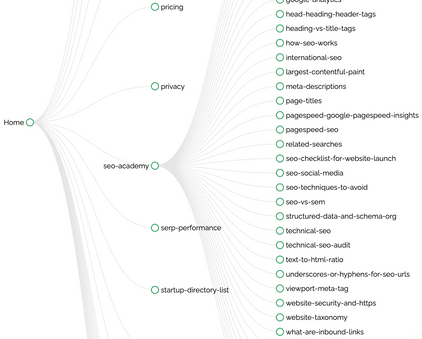 Sitemaps
Sitemaps are an import tool in your SEO toolbox. How do you know if the sitemap is complete, up to date, and correct? The Sitemap Report tells you just that.
We find all your sitemaps and find broken pages, missing pages, and redirected pages. Invaluable to improve your sitemaps and help Google indexing your site.
Broken links and redirects
Broken links annoy your visitors and hurt your SEO activities. SiteGuru checks all your internal and external links and checks if they work. And there's more: we check for internal redirects and show you which pages have no internal links. No easier way to quickly identify link issues and improve your internal linking.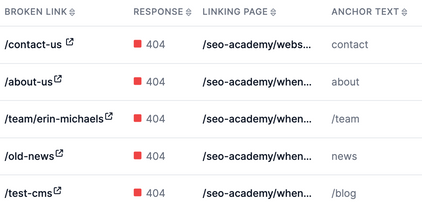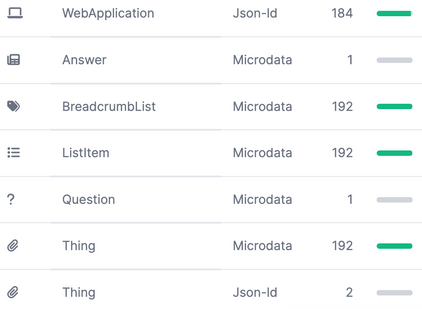 Structured Data
Every SEO knows Structured Data is a great way to enhance your visibility in Google.
The Structured Data Report to find out which pages have whay types of Structured Data, and where you could add some Schema to improve your visibility.
Canonical URLs
A wrong canonical URL can do serious SEO damage to your website. For every page, the Canonical Report shows you what type of canonical it has: no canonical, self-referencing, or referring to another page. This helps you identify canonicalization issues and prevent SEO disasters.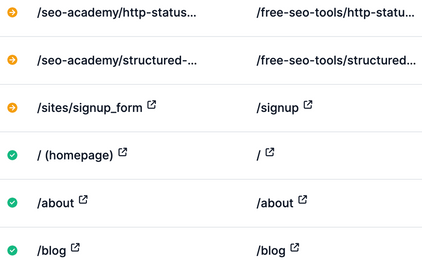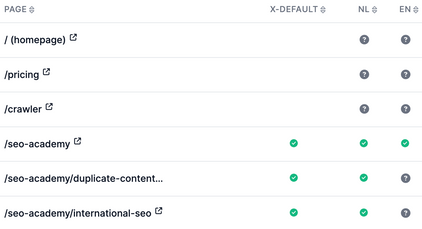 Hreflangs
If you've ever done an SEO audit for an international website, you know what a nightmare Hreflangs can be. Very much required to make a page target the right audience, yet very hard to get right.
The Hreflang-report shows you which pages have which hreflangs, to help you quickly find uncovered pages or languages. A huge time-saver for international SEO.
Detailed reporting
Page structure and headings
Headings help search engines understand what your page is about. For every page, we show you the structure, from H1 to H6. Pages without an H1, or with many different H1's are highlighted, so you can improve the page structure.
No-index setting
We've all heard SEO horror stories of a forgotten no-index tag on the most important page. With SiteGuru, that won't happen to you. For every page, we check the indexability settings. No SEO bloopers for you.
Images without alt texts
Image alt texts help you make your site more accessible and helps Google understand what the image is about. The Image Report shows you which images don't have an alt text.
OpenGraph data
OpenGraph tags make your pages stand out on social media. Don't miss the opportunity to stand out. The OpenGraph report identifies pages that don't have OpenGraph data.
Google Analytics tracking code
Using Google Analytics? You want to make sure the tracking code is placed on every page. That's exactly what the Analytics report tells you. It reports pages without a tracking code. Works with Google Analytics and Tag Manager.
Robots.txt check
A robots.txt file contains crawl instructions for crawlers and search engines. Although not required, we recommend to add one to your site. We check if your site has a robots.txt file and if it's valid.
SiteGuru works on every CMS
Wordpress, Drupal, Magento, or custom built: it's all equal to us. Whichever CMS you're using, SiteGuru can run an SEO audit on your site.
No plugins or server access required. All you need to do is enter your URL and we'll do the rest.