SEO Content Optimization
You don't make content for search engines, but for people. Our audit helps you make sure that content gets your pages ranked.
We help your content strategy succeed
All content optimization features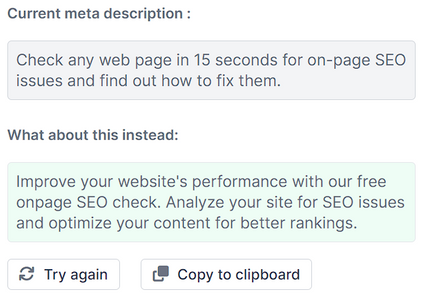 AI-generated content suggestions
Let's be honest: no one likes coming up with meta descriptions or page titles.
That's why we use AI to generate suggestions for your meta descriptions. You can use them as-is, or as a starting point for your own meta descriptions.
Just click the suggest button, and we'll generate meat descriptions and titles for your page, optimized for your target keyword.
Set your SEO Goals
Pick a target keyword, and we'll help you reach your goals with our step-by-step guide.
We help you track your goals over time, and guide you through the next steps to improve your rankings.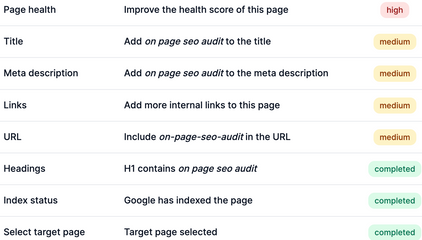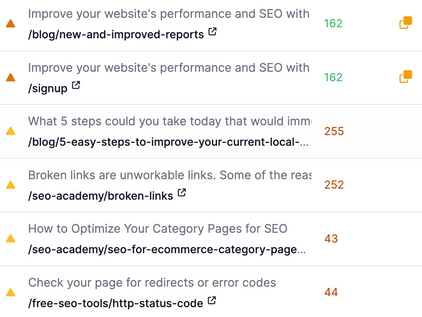 Meta descriptions and titles
Get the basics right: find missing or duplicate page titles and meta descriptions. And find those titles and descriptions that have a suboptimal length.
Better yet: see directly what the SERP for that page might look like, on both mobile and desktop. Not for one page, but for hundreds of pages.
Page structure and headings
Headings help search engines understand what your page is about. For every page, we show you the structure, from H1 to H6.
Pages without an H1, or with many H1's are highlighted, so you can improve the page structure.
Quickly see if you're using the right keywords in headings.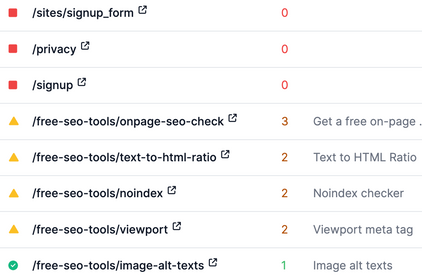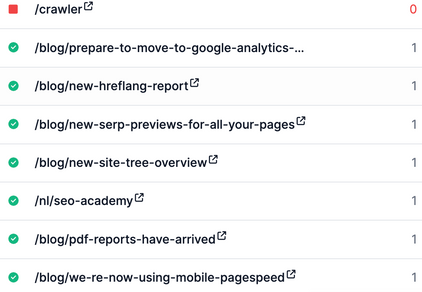 Internal linking
Internal links are important for SEO. The easiest way to improve the visibility of a page is by adding internal links to it.
SiteGuru helps you quickly find orphan pages with no or few internal links, and spot linking opportunities.
OpenGraph Data
OpenGraph tags make your pages stand out on social media.
Don't miss the opportunity to stand out. The OpenGraph report identifies pages that don't have OpenGraph data.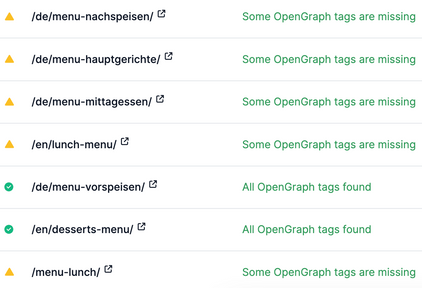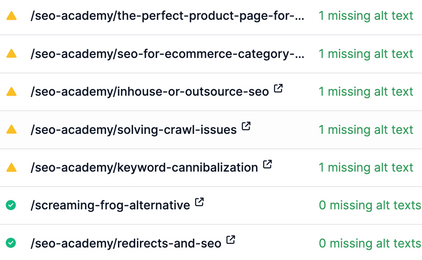 Images without Alt Texts
Image alt texts help you make your site more accessible and helps Google understand what the image is about.
The Image Report shows you which images don't have an alt text.
100s Of Companies Are Using SiteGuru To Get More Traffic

"Easy to understand and explain to my clients"
Gloria O.

"Easy to understand, all info in 1 click"
David K.

"My number 1 SEO tool to detect and fix website issues"
Paul Daveril D.
Pricing
For in-house marketers
Starter
$
29
per month
billed monthly
2 websites
Unlimited users
Responsive support
White label reports
Start free trial
For SEO consultants
Most popular
Medium
$
49
per month
billed monthly
10 websites
Unlimited users
Responsive support
White label reports
Start free trial
For agencies
Agency
$
149
per month
billed monthly
50 websites
Unlimited users
Priority support
White label reports
Start free trial
Try SiteGuru for free
Free trial - No credit card required - Done in 15 minutes