Technical SEO audits
Don't let technical site issues slow down your organic growth.
Our technical audits help you find and fix every issue.
All Technical SEO features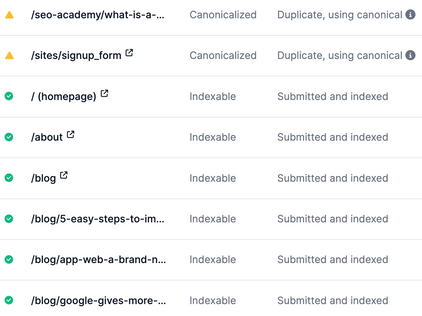 Get your pages indexed by search engines
It all starts with making your pages indexable. We check your indexation settings to make sure Google doesn't miss anything.
Using Google's Page Inspect API, we give you near real-time insights into the indexation status of your pages.
Pagespeed and Web Vitals
Page speed is important for both SEO and user experience. We help you find slow pages.
Stop checking every page individually: we'll check your of pages using the Pagespeed API, and show you the results in one overview. This saves you hours finding slow pages.
Oh, and we do it every week, so you'll know when new page speed issues arise.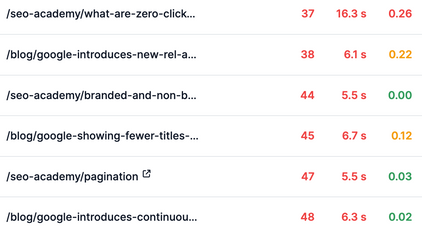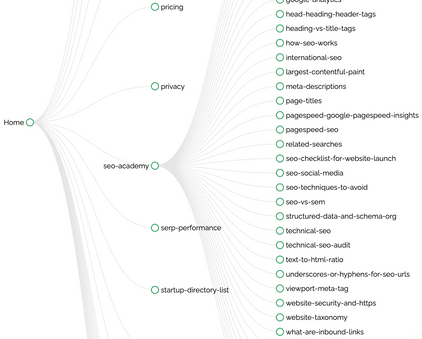 Sitemaps
Sitemaps are an import tool in your SEO toolbox. How do you know if the sitemap is complete, up to date, and correct? The Sitemap Report tells you just that.
We find all your sitemaps and find broken pages, missing pages, and redirected pages.
Invaluable to improve your sitemaps and help Google indexing your site.
Canonical URLs
A wrong canonical URL can do serious SEO damage to your website.
For every page, the Canonical Report shows you what type of canonical it has: no canonical, self-referencing, or referring to another page. And we check if that canonical actually works.
This helps you identify canonicalization issues and prevent SEO disasters.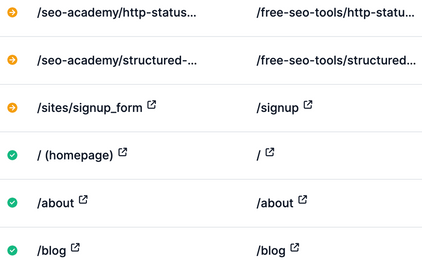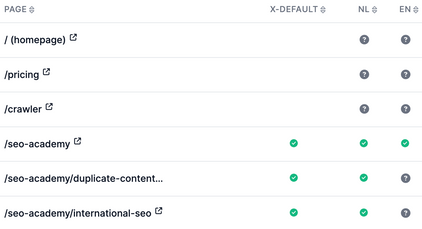 Hreflangs
If you've ever done an SEO audit for an international website, you know what a nightmare Hreflangs can be. Very much required to make a page target the right audience, yet very hard to get right.
The Hreflang-report shows you which pages have which hreflangs, to help you quickly find uncovered pages or languages. A huge time-saver for international SEO.
Structured Data
Structured Data is a great way to enhance your visibility in Google.
The Structured Data Report to find out which pages have what types of Structured Data, and where you could add some Schema to improve your visibility.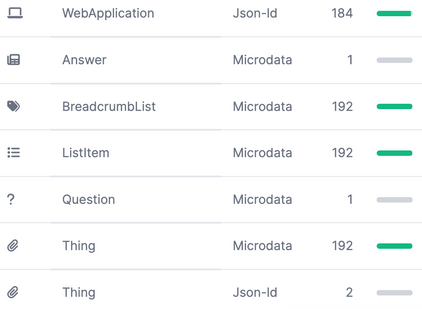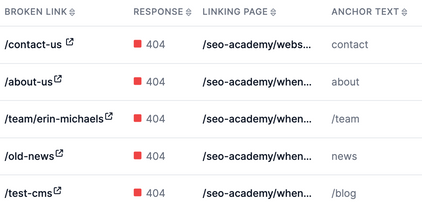 Broken links and redirects
Broken links annoy your visitors and hurt your SEO activities. SiteGuru checks all your internal links and checks if they work.
And there's more: we check for internal redirects and show you which pages have no internal links. No easier way to quickly identify link issues and improve your internal linking.
100s Of Companies Are Using SiteGuru To Get More Traffic

"SiteGuru is like having a good pal who's great at SEO"
Duy H.

"Excellent tool for those who are not techs"
Lisseth

"An SEO Audit Tool that is Beautifully Simple"
Hue T.
Pricing
For in-house marketers
Starter
$
29
per month
billed monthly
2 websites
Unlimited users
Responsive support
White label reports
Start free trial
For SEO consultants
Most popular
Medium
$
49
per month
billed monthly
10 websites
Unlimited users
Responsive support
White label reports
Start free trial
For agencies
Agency
$
149
per month
billed monthly
50 websites
Unlimited users
Priority support
White label reports
Start free trial
Try SiteGuru for free
Free trial - No credit card required - Done in 15 minutes