Monitoring your SEO campaigns is crucial, but preparing reports is a different story. Without a good reporting tool, it'll be hard for your clients to understand just how much you've helped their marketing.

You've put in the work on the campaign, so prove the ROI with your SEO reports! Let's dive into the top 11 best SEO reporting tools, including:
SEMrush
SiteGuru
Google Looker Studio
SE Ranking
Raven Tools
Databox
AgencyAnalytics
MozPro
Ahrefs
SpyFu
WooRank
What to Look for in Your SEO Reporting Tool
In addition to getting the features you need for successful campaigns and monitoring, look for tools that check your reporting boxes:
Does the SEO reporting tool collate data from different sources? (E.g., the tool itself, Google Analytics, Google Search Console, Google Ads, etc.)
Are the reports easy for the clients to understand?
Do the reports track historical progress so that you can prove the ROI to the client at a glance?
Do the reports go into detail after providing executive summaries for each category?
Can you white-label the reports? Can the clients access the tools themselves to have a deeper look?
Can you customize what's displayed in the report?
Take your time creating your checklist for the reporting tool. And remember: just because you use an SEO tool extensively doesn't mean you have to use them specifically for reporting. 
The Top 5 SEO Reporting Tools
SEMrush Reporting: Best for Big SEO Agencies
SEMrush doesn't leave out any features, which makes it a fantastic tool for running your clients' overall SEO (as well as social media, PPC ads, and more). It's powerful on the data side, but setting up customized reports might take a while.
SEMrush Integrations
Google Analytics
Google Search Console
Google Business Profile
Google Ads
+ More!
How Do You Create a Report in SEMrush?
Here's the tricky part: SEMrush can get overwhelming fast. 
Fortunately, it offers templates so you can drag & drop the columns to display relevant data. For example, your client might only want to track rankings and keyword positions. Others might need their international SEO and backlink reports.
It's up to you: create a template and then share it with the client every month. (Yep, you can add your branding.)

Source: SEMrush
Depending on the plan, you might even be able to share the reports within SEMrush directly with your clients. They'll be able to can click around and get more information.
SEMrush Pricing
SEMrush starts from $119.95 per month for the Pro plan. However, for advanced SEO reporting features like 20 scheduled reports, you'll need to be on the Guru plan for $229.95 monthly.
Key Pros & Cons Breakdown
Key Pro of SEMrush for SEO reporting:
You can't beat SEMrush's features. It offers everything from keyword to backlink tracking with advanced competitive insights.
Key Con of SEMrush for SEO reporting:
It'll take a while to set everything up, which means added workload unless you really need to report on every SEMrush feature.
SiteGuru for SEO Reporting: Best for Actionable Reports
Talking to SEO clients online in the last few years, I've realized just how useless they tend to find standard SEO reports. It'll take them too long to understand how different factors affect their success if they're not proficient. In short: they want vital insights.
That's one part of the reason why I built SiteGuru. As a weekly SEO audit tool, SiteGuru monitors your website's SEO health with its suite of features (including technical SEO and ranking tracking). 
Then, it creates a prioritized to-do list for you and your clients.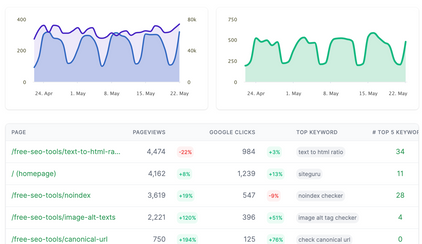 Keyword insights in SiteGuru
SiteGuru also tracks historical performance (while highlighting the changes you made), so it's easy for a client to see how every action you took affected their SEO success.
SiteGuru Integrations
Google Search Console
Google Analytics
How Do You Create an SEO Report in SiteGuru?
You have two options:
Share the access to SiteGuru with your client so that they can dive into the details themselves. The dashboard is very user-friendly, so they'll have no trouble understanding what's what.
Export white-labeled .DOC or .CSV reports. The reports start with the next tasks you should tackle and then proceed to specific site-wide checks. Feel free to add to them, remove low-priority sections for your campaigns, and more.
SiteGuru Pricing
All SiteGuru plans include unlimited users. However, if you want to monitor up to 50 websites and get the ability to white-label your reports, I recommend the $149/mo Agency plan. 
Key Pros & Cons Breakdown
Key pro of SiteGuru for SEO reporting:
It's highly actionable. You and your clients will understand exactly what to do next and easily keep an eye on their SEO. (SiteGuru usually sends weekly audit notifications, too.)
Key con:
SiteGuru doesn't track backlinks or integrate with PPC platforms and social media (yet).
Google Looker Studio: Best for the Tech-Savvy SEOs
Google Looker Studio is an absolute powerhouse. If you're looking to integrate all sorts of data points (including your eCommerce sales data), you've found your tool.
Unfortunately, it does take a while to set it up, but it's more than worth it! You'll get nicely visualized reports. 
I wouldn't recommend using them as your main report to clients, but they're still handy.
Google Looker Studio Integrations
Almost unlimited. Build connections to integrate with any data source.
How to Create an SEO Report in Looker Studio
Once you've added all the relevant connectors, you can pre-configure the client reports and create templates. Again, it's all very visual, so it may not allow you to expand on the meaning of the data.
Looker Studio Pricing
It's free!
Key Pros & Cons Breakdown
Key pro of Looker Studio for SEO reporting:
Almost infinite connectors allow you to explore how different data points affect one another and share that with your clients.
Key con:
It's not structured as a standard SEO report. Depending on your client, you may want to add more context.
SE Ranking for Intermediate SEO Reporting
If you're not running a massive operation that requires wading through the crevices of SEMrush, check out SE Ranking. 
It offers all the standard features (keyword and rank tracking, competitor analysis, website audits, backlink management, etc.) and allows you to share insights with auto-generated reports.

Source: SE Ranking

Integrations
How to Create a Report in SE Ranking
You'll use templates to create SEO reports in SE Ranking. There, you can customize the data to display to your clients. Once you share it with them, the report can be completely white-labeled, including the platform that displays your brand visuals.
SE Ranking Pricing
SE Ranking starts from €39/month, but you'll need the Pro plan at €89/mo to unlock more features. 
Key Pros & Cons Breakdown
Key pro:
The total white labeling (including the platform visuals) is a nice touch! The same goes for automated SEO reports sent to your customers. 
Key con:
Your customers will still only see the data - you'll need to send a follow-up email explaining the context.
Raven Tools: Best for PPC & SEO Reporting
If your agency handles more than just SEO for your clients (or you want a comprehensive overview of all their marketing efforts), try Raven Tools.
Raven Tools keeps track of keywords, backlinks, rankings, and technical SEO while adding a new focus on social media and PPC.

Source: Raven Tools
Integrations
Google Analytics
Google Search Console
Bing Webmaster Tools
Moz
Social media
And more!
How to Create an SEO Report
You'll drag & drop the data you want to display in the SEO report. Then, as it's fully white-labeled, simply share it with your clients. You'll also see the site auditor KPIs, including the number of broken links.
Raven Tools Pricing
Raven Tools starts from $39/mo, but you'll get full white labeling with the $139/mo plan.
Key Pros & Cons Breakdown
Key pro:
Raven Tools is excellent if you manage more than SEO.
Key con
You'll still need to demystify the figures for the clients in a follow-up email.
Honorary Mentions for SEO Reporting
While the five above are the most straightforward options for comprehensive SEO reporting (with some like SiteGuru even offering prioritized insights and takeaways), these are other great tools I've seen work great in professional SEO stacks:
Verdict: What's the Best SEO Reporting Tool?
I recommend choosing 2-3 tools and integrating them into your SEO reporting stack.
For example, start with SiteGuru. It'll automatically summarize the insights and changes for your clients. Then, add the data points from the Looker Studio and perhaps an additional tool like Ahrefs.
In the end, with some help from APIs and automation, you'll build a scalable reporting process that shows your clients how lucky they are to work with you.