Page structure and headings are a simple but vital part of a high performing website.
Every page is made up of a number of components that should be optimized for SEO impact. Elements like body text, title tags, URL structure and how you use your chosen keywords are all part of designing and assembling a strong page.
Having an optimized page means correctly planning and streamlining how your page appears to users and search engines. At the same time, headings on your page impact how Google and the other search engines assign importance to your content.

Because a great deal of SEO is about keywords and keyword placement, understanding how to use structure and headings on your page will give you an advantage in terms of ranking in the SERPS.
Here are the important on-page elements you need to know for SEO.
What is Page Structure?
Page structure refers to the structure of a particular web page. Collectively these pages need to be organized in a coherent way to enhance the functionality and usability of your website.
The structure of a website is not the same thing as the design of your website. A strong page structure naturally enhances multiple SEO features, for greater website performance overall.
Individual pages need to be considered on their own merit, specifically – how you're going to optimize the on page content there, and how you will link the pages together.
Example of Webpage Structure: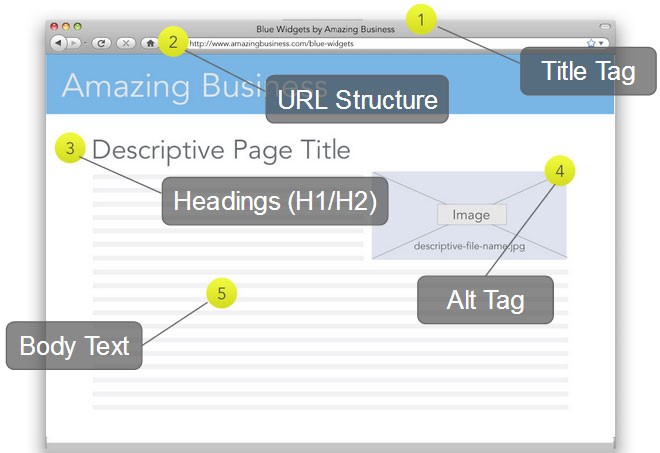 What are Headings?
In SEO, headings or heading tags are the keyword-infused titles that help the search engines understand the structure of your page content.
The content and code used for your headings is important, and you need to use the correct heading tags in the right place. The H tags used for headings are H1, H2, H3, H4, H4 and H6.
These create a heading hierarchy that helps Google and the other search engines understand the structure of your text on the page.
HTML Heading Tag Hierarchy Example: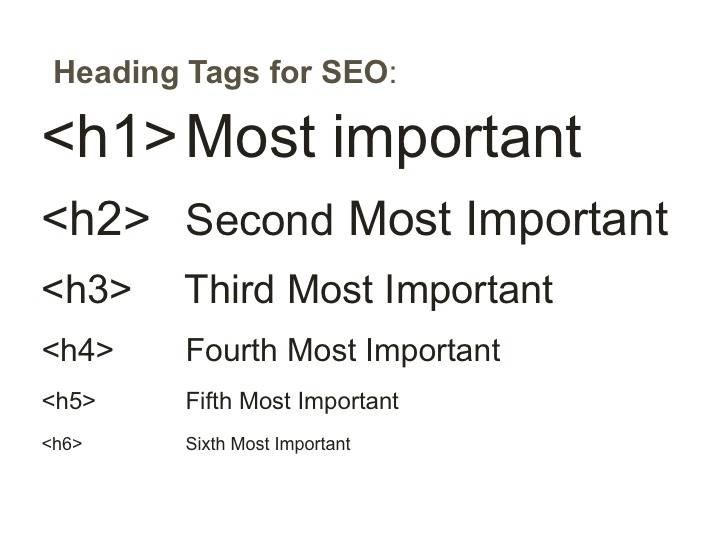 Headings can be keyword optimized for SEO, so they're among the most essential page structure elements that should be performance enhanced. Typically they're arranged from the most to the least important, with the most important acting as the largest when visually displayed.
Why are Page Structures and Headings Important?
On-page structure and headings are an important part of search engine optimization. Because SEO is about streamlining on-page content for both search and user performance, how your HTML text appears on the page is critical for front and backend use.
Front End:
In terms of usability, a website visitor will orientate themselves by noticing the page structure and headings on your web page. They will use these headings and subheadings to decide whether to stay on your page, explore further, or go somewhere else completely.
Visually speaking, these display your content in a logical and easy to consume manner for your visitor. Web visitors browse and scan headings to find content quickly, which means better usability.
Back End:
With heading tags the rules are simple – use one main H1 title tag, and never skip a level. What follows H1, is H2, then H3, and so on. Never jump from H1 to H3 to be semantically correct.
Use 1 keyword for each heading, and don't keyword stuff.
User Experience
A correctly optimized page structure takes a number of factors into account that influence user experience. This structure makes your page search-friendly and highly readable.
Title Tag: Your page title as it appears in the SERPS
The Meta Description: The search snippet defining your page and attracting traffic
Your Main Heading: <h1></h1>
Body Content: Sectioned with <h2>-<h6> subheading tags
Image Alt Attribute: Image text for search, using keywords
Internal and External Links: Links to other site pages on and off the website
Calls to action: Prompts user to take action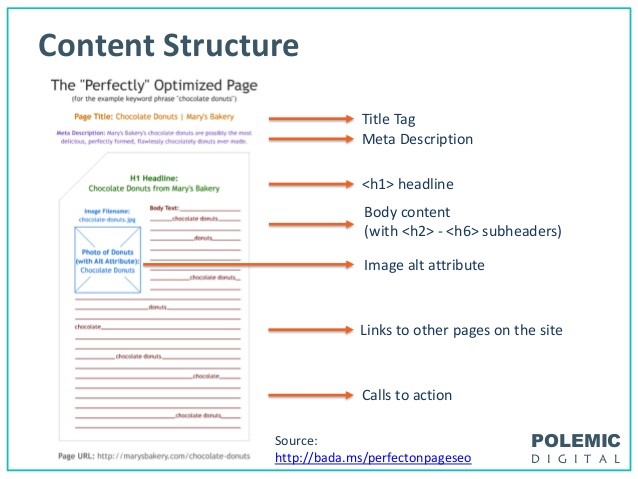 Crawlability of a Website
Your page structure and headings are also factors in site crawlability. When Google's crawlers set out to index your website, it's the text content they're crawling. Ideally, Google and other search bots shouldn't hit any dead ends – which means your pages need logical structures, appropriate headings and optimized URLS.
Check your page crawlability by using 'Fetch as Google' in your search console area.
URL Best Practices
Make sure that your URL is keyword optimized and comparable to your main page header. Do not use any special characters (&*@#) that will impede crawlers and keep your URL length 37 characters or less - not including your domain extension.
Shorter is better, as a general rule, and while search engines can process longer URLs the shorter ones tend to rank better on Google's page 1 results.
A URL is also a strong tool for reflecting the hierarchy of your website, which is displayed in the SERPS, and as people are navigating through the site itself. Clear URLs assist your users in identifying where they are, as they explore your website.
Linking Practices
Quality linking in your page structure and content, will result in easier crawlability for search engines and visitors. Use keywords in your content to link relevant pages together. This will improve your page depth and user experience overall for stronger SEO.
Helpful internal links will keep visitors exploring your pages, which increases the time they spend on your website. Adding in links to relevant pages at the end of your content will ensure that these users have alternative navigation options and a fluid user experience.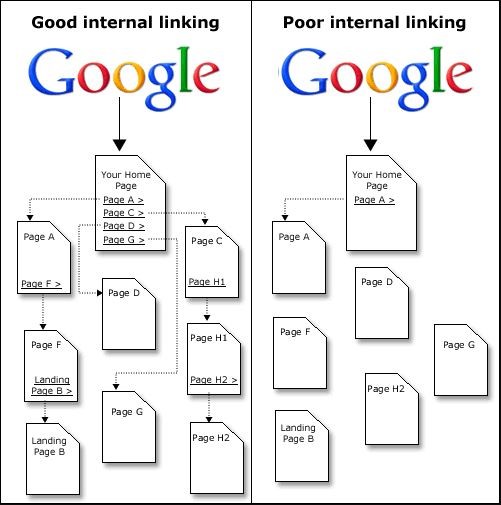 Are Site Structure and Heading Hierarchy Ranking Factors?
Yes! Because keywords play such a vital role in SEO, your headings are some of the strongest signals that Google uses to determine weight and relevance.
Other factors associated with page structure include body content length – make sure your pages are longer than 350 words each – and keyword diversity, ensuring that the body content contains words that directly associate with your main keywords.
Keyword diversity is about taking your core or primary keyword, and then integrating words in your content that directly relate to that term.
For example if 'community college' is your main keyword, instead of repeating the term over and over again, you should include words that are synonyms, or that directly link to this term – to help search engines understand your content.
Your community college page will contain terms like: junior college, technical college, two year degrees, two year colleges, general education, tertiary education, college classes and the like. Rankbrain makes associations between words and uses these to determine how comprehensive your content is for your visitor.
Meta data carries weight
Your main heading carries the most weight
Text calls to action (CTR) matters
Your page structure and headings are simple to optimize and will help make your website search engine and visitor-friendly. These important on-page elements should be practiced site-wide.