Product Hunt is a great website for finding awesome new products and apps. When launching a new product, posting it on Product Hunt is a great way to reach a large, tech-savvy audience and get their feedback. Visitors can upvote products they like, and the more upvotes you get, the more visibility you'll get.
SiteGuru has launched a couple of months ago and after lots of testing, I felt it was ready to be launched on ProductHunt. In this blog post, I'll share how I did it and what the outcomes were.
Technical preparations
A popular Product Hunt post can lead to a lot of traffic to your website. That's great, but I needed to make sure the servers could handle that. Especially since many people will be running site checks, which can cause quite a heavy load on a server. 
I run my servers in the Amazon Web Services cloud, which allows me to scale quickly. I created a load balancer and launched a couple of extra web servers. Using auto-scaling to launch even more servers in case of very heavy loads, I felt comfortable to spread the word.
Writing a post
I did some research about how to launch your product on ProductHunt. There are quite a few good blog posts from people who did it successfully, and there's a great resource from PH themselves. 
It was important for me to showcase the product in the message, so people would get a good feel of what SiteGuru does. Therefore I created a quick video that shows how a site check works, as well as some good screenshots. 
In the post, I explained what the tool does and why I created it. Then came the big moment: I posted SiteGuru on PH:-)
To gain some extra attention, I wrote a newsletter to all existing members asking them to upvote SiteGuru. Thet I got a coffee and awaited the results.
The results in numbers
Soon after posting, the Google Analytics Realtime screen showed promising results. For the next few hours, at any given moment there would be about 15 simultaneous visitors. Pretty good!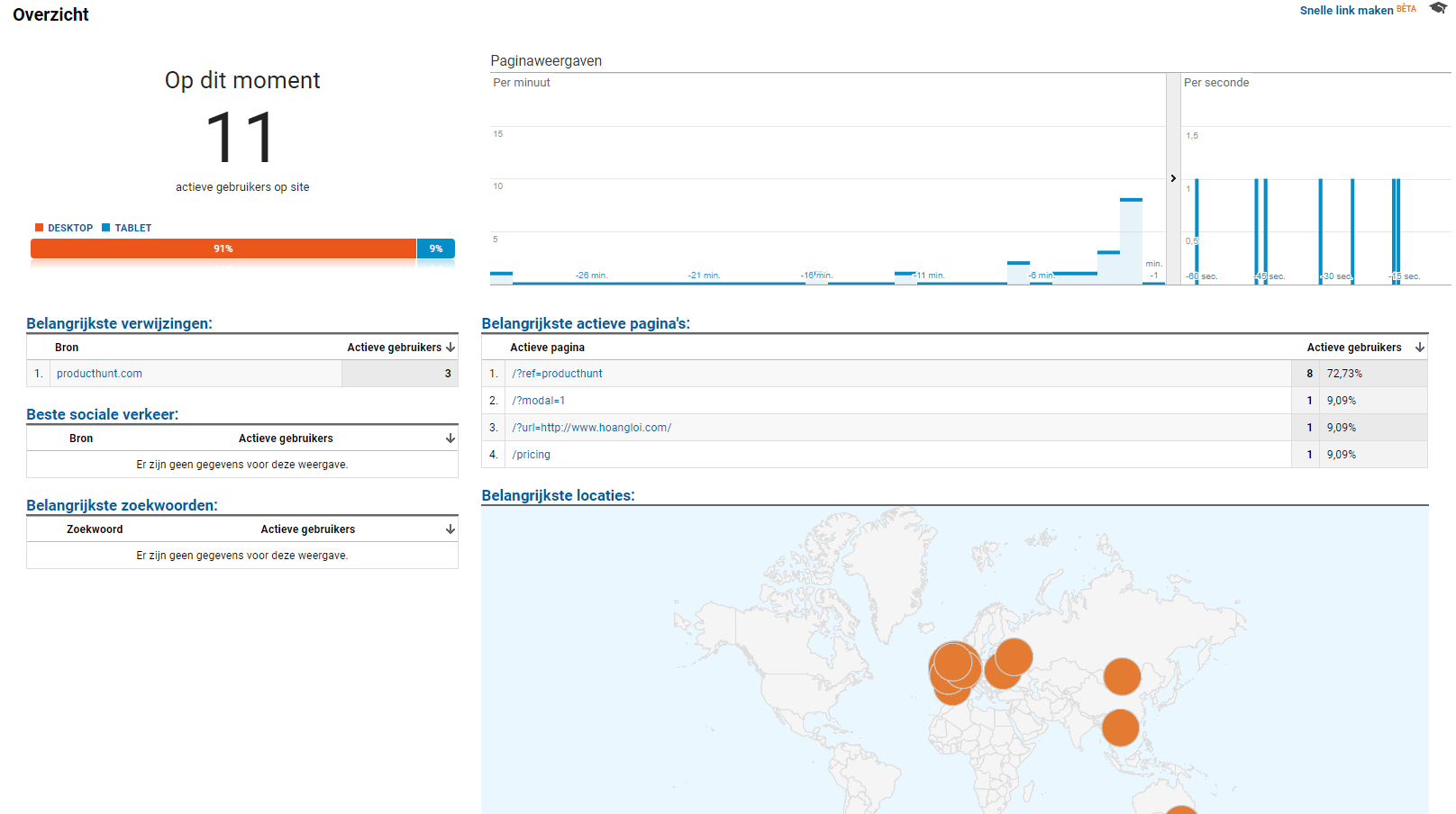 Real-time overview of visits just after posting. As you can see, the North America was still asleep.
At first, I was a bit disappointed by the number of upvotes: it didn't go beyond 10 for the first couple of hours. However, after a few hours, it started rising.
Here are the stats 18 hours after posting:
700 people visited

53 upvotes

over 400 websites checked

40 people signed up

What surprised me most is not just the number of people, it's also their engagement. That's not always the case when you get linked by a large website that brings in a lot of visitors: it often leads to a higher bounce rate and lower conversion. In this case, it's the opposite: the bounce rate is even lower than usual at 38%, as is the conversion rate (55%; every site check and sign up counts as a conversion).
All this happened without issues: the servers hummed along nicely. A couple of people reported some bugs (an encoding issue for Turkish characters was found and fixed), but most people seemed happy. And so was I.
Thanks to everyone who upvoted us!